John Stokoe CB CBE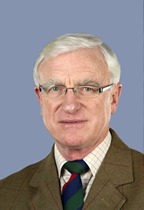 John is a former Major General in the British Army. He joined the Army as a 15 year old Army Apprentice in 1963 and commissioned from Sandhurst in 1968. During his service he held wide ranging, diverse and demanding posts: in his first 10 years he served with Gurkha soldiers in Malaya, Hongkong and Nepal, carried out 3 operational tours in Northern Ireland with the infantry and the police Special Branch, and attended the Army Staff College. Operational service in the Falkland Islands and the Persian Gulf preceded a number of senior posts which included logistic staff tours, command of his branch of the Army in Germany and director of world wide Army policy in the MOD. He retired from the Army in the rank of Major General in 1999 at the age of 51. His final post was Deputy Commander in Chief and Commander of the Field Army. In this role he was responsible for all operational collective training and the operational effectiveness of the British Army. He was appointed MBE in 1982, CBE in 1991 and CB in 1999.
Since leaving the Army, John has created a second career in business. In the Amey support services group he managed strategic development for the Defence division from 1999 to 2002. He then joined the Lend Lease Corporation, initially as head of Defence strategy but latterly as Director of Corporate Affairs and Marketing for Lend Lease Europe and the Middle East.
In November 2006 he joined the BT Group as Director Defence and Security. In October 2009 he was appointed MD BT National Government, subsequently retiring to pursue the next stage of his business career in 2011.
John currently has a number of positions: non executive Chairman of Debut Services Ltd, the joint venture between Lend Lease and Babcock Infrastructure Services, managing the MOD's single living accommodation modernization programme (Project SLAM); Chairman of the Regular Forces Employment Association; Chairman of Systematic (UK) Ltd; non executive director with the Salisbury NHS Foundation Trust; non executive advisor to the National Security and Resilience division of Thales. He also provides mentoring and coaching to senior board directors and lectures extensively on business leadership in complex environments. He has published a number of papers on leadership and the creation and development of business partnerships.